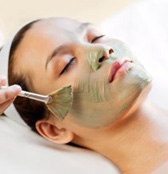 RENEW CUSTOMIZED FACIAL
Awaken your skin! Designed for your exact complexion, you'll experience a custom blended deep pore cleansing, exfoliation and massage of the face, neck and shoulders followed by a therapeutic mask and serum designed to correct specific problems. Your skin will feel hydrated, refreshed and look radiant.
60 minutes $75.00
RENEW FAST RESULTS FACIAL
Ideal for those on the run or lunch time. This facial focuses on the cleansing aspects of the RENEW Customized Facial. Have your pores deep cleansed and extracted or enjoy a skin rejuvenating facial massage. Your choice!  Either way you'll experience a treatment that leaves your skin feeling clean, smooth and revitalized.
30 minutes $45.00
CALMITUDE FACIAL FOR ROSACEA AND SENSITIVE SKIN
This soothing treatment is designed to strengthen fragile skin while reducing redness and discouraging irritation. You'll experience calming skin cleansing, gentle exfoliation, a relaxing facial massage and an ultra-soothing mask customized for your skin's unique sensitivities. Perfect choice for any sensitive skin type.
60 minutes $75.00
MENS FACIAL
A customized treatment designed to keep your skin looking its very best. Deep cleansing and exfoliation to target any breakouts, blackheads, and ingrown hairs. Next a custom blended mask will be applied to soothe, balance and tone your skin. Facial includes face, neck, and shoulder massage.
60 minutes $65.00
OXYGENATION FACIAL FOR PROBLEMATIC AND OILY SKIN
This is a great facial for problematic skin and teenagers. Deep pore cleansing, exfoliation, extractions, and an oxygenating mask that carries active ingredients deep into your skin via oxygen molecules.
60 minutes $75.00
ANTI-AGING FACIAL
This treatment is created for skin that's showing signs of age-sagging, fine lines and dullness. A thorough cleansing is followed by a layered exfoliation process, energizing massage and ultra tightening mask. It's all designed to restore firmness to sagging skin as it lifts, tightens and smooths.
60 minutes $75.00
RENEW PURE ORGANIC FACIAL
This treatment is for those who wish to have a pure certified organic facial.  No artificial colorants, no synthetic fragrance, and is not tested on animals.
This is the perfect facial for the purist that has a strong preference for all natural and organic ingredients.
60 minutes $75.00
RENEW BACK FACIAL
Specifically designed to help problematic skin due to clogged pores and impurities. This back facial includes cleansing, exfoliating, steam, extractions, masque, massage, and moisture.
60 minutes $85.00